An Ideal Place for Key West Weddings and Receptions
Above the streets... Beneath the stars!
Thank you for taking the time to inquire about our restaurant, we would be happy to host your event. The Roof Top Café offers the absolute finest in gourmet dining, service and atmosphere. Your experience on that special day or evening should be as unique as the occasion itself. Allow our professional staff to customize your menu, from cocktails and light hors d'oeuvres to a lavish sit-down wedding reception. Complete event planning is available so you can enjoy every moment, worry-free.
As one of the top banquet restaurants in Key West, Florida, Roof Top Cafe is able to accommodate large parties for indoor and outdoor events. Because of the generous size of the rooms, we're able to customize your special day in countless ways. Whether you're looking for an intimate affair for 25 people, or a complete reception for up to 150 people, Roof Top Café can help you create the wedding of your dreams.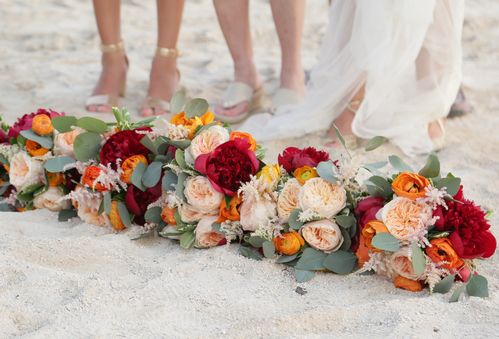 DESCRIBE YOUR DREAM DESTINATION WEDDING
To better serve you, please fill out the
event questionnaire
. Upon receipt, our event coordinator will contact you to discuss your party's specific needs and answer your questions. After you submit the questionnaire, please feel free to contact the Event Coordinator by
sending an email
or by calling 305-294-2042. Make yours an affair to remember at the Roof Top Cafe in Key West, Florida.
With our seated dinners, your guests will receive a copy of your chosen menu to order from the night of your event. All menu items are prepared fresh to order. Depending on your menu choice and group size, you should allow approximately an hour and a half to two and a half hours to enjoy your dinner.
Upper Deck Seating: 32 | Total Deck Seating: 60*
Located outdoors, directly off the main bar & cocktail lounge, shaded by a huge mahogany tree and bordered by tropical foliage.
Indoor Seating: 80 | Indoor Seating + Balcony: 110*
Located off the other side of the main bar and cocktail lounge, The Main Dining Room is bordered on three sides by sliding glass doors, left open to attract tropical breezes or closed for air conditioned comfort.
Seated Dinner: 32 | Cocktails/Hor d'oeuvres: 50*
The Cocktail Lounge is bordered by our indoor/outdoor bar and sliding glass doors. The Cocktail Lounge also provides a perfect space for reception bands and dancing.
*Please Inquire For Food & Beverage Minimums for Private Seating in These Areas